How it works!

3 simple steps to your online wishlist
1
Create wishlist online for free
Create your wishlist without registration and absolutely free in just a few clicks. Share it with your family or friends. No more boring or duplicate gifts. Gift giving can be so easy.
2
Add wishes to wishlist
Find the gift that is right for you from over 229 million products and put it on your wishlist. You can add as many products as you like to your wishlist.
3
Share wishlist with family and friends
Share your wishlist easily with your family or friends via email, Whatsapp or a simple link. You can even embed your wishlist into your own website.
Wishlist features from Wishly
No more double gifts

With the "Mark as bought" function, your family or friends can see which wishes have already been fulfilled.

Easily shareable with friends and family

You can easily share your wishlist with friends or family via mail, WhatsApp or a link after you have created it.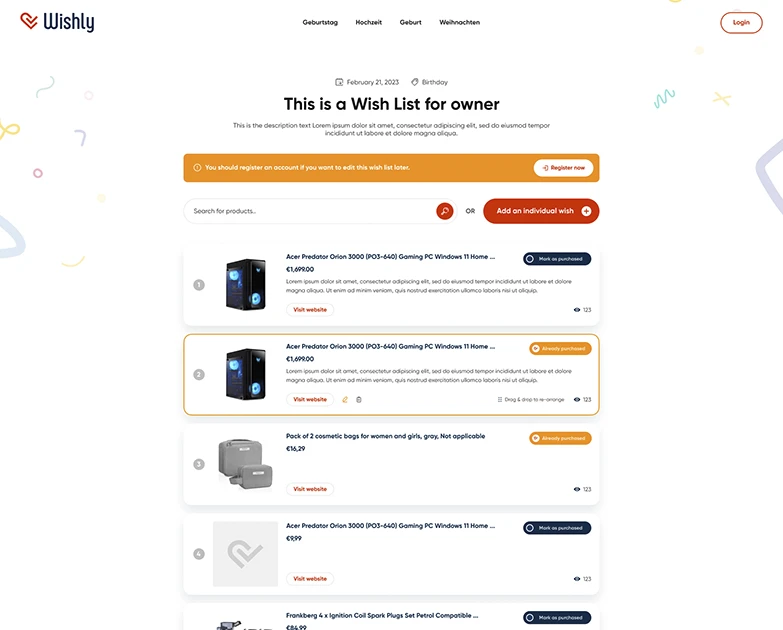 Number of wishlists
400
Number of wishes
1300
Number of wishes fulfilled
200
What other users say about Wishly
Our Wishly online wishlist has already been used by thousands of users. Learn more about what others think about it.
Create your perfect wedding registry online with Wishly's wishlist - convenient, free, and stress-free
Your wedding day is a special occasion where you celebrate love and begin life together. However, wedding planning can be stressful and time-consuming. Guest lists, venues, catering, floral decorations, and finances are just some of the things that need to be considered. But we can help you with at least one thing - your wedding wishlist.
With Wishly (the wedding gift website), you can create a personalized wedding wishlist for free and without registration. Instead of individually suggesting gift ideas to each guest or giving instructions to your best man or maid of honor about what should/can be gifted, you can create a central wedding wishlist on our platform that all guests can access later. This saves you from annoying inquiries and avoids unwanted or duplicate gifts.
Overview of Wishly's features:
Easy creation of a wishlist: Wishly allows you to create a wedding wishlist in a few simple steps. You can search for products from various online stores and add them to your wishlist to ensure that you have all the items in one place. You can also create custom wishes to make sure all your desires are on the list.
Share your wishlist with family and friends: Once you have created your wishlist, you can easily and quickly share it with family and friends. This ensures that all guests know which gifts you desire for your wedding. You can also choose which items on the list should be visible to specific individuals.
Avoidance of duplicate gifts: One of the great features of Wishly is the ability to mark gifts as "gifted." This allows other guests to see which items have already been purchased, preventing duplicate purchases.
No registration required: Unlike other platforms, Wishly does not require registration. You can simply create and share your wishlist without creating an account or disclosing personal information.
Flexibility and convenience: Wishly offers you the flexibility and convenience to change or update your wishlist at any time. You can add or remove products to ensure that your wishlist is always up to date.
First, take a look at our demo wishlist to get a good idea of how our wishlist works. Test our demo wishlist for as long as you want to get a good feel for it. After setting up your virtual wedding registry, you can either add a new wish through the form below the wishlist or search for suitable ideas using our integrated wish search.
Once you have added your wedding wishes, all you need to do is share the link to your wishlist with your guests. It's best to print the link directly on your invitation cards so that every guest knows where to look. Once your guests have received the link, they can take their time to choose a gift they would like to fulfill and reserve it. This way, you can ensure that there are no duplicate gifts and you also save yourself from inquiries.
Wishly is simple, practical, and secure. Thousands of other wedding couples have trusted us and created their wedding wishlists with us. We help you make your special day an unforgettable event by providing you with a straightforward way to share your wishes.
But Wishly is not only a great way to express gift wishes for weddings. It is also suitable for birthdays, baby showers, or Christmas. An individual wishlist can be created for any type of event to make the gift selection easier for friends and family.
Another advantage of Wishly is the ability to collect and save products from various online stores on a central list. This means that you are not limited to a specific retail chain and can freely choose your wishes from a variety of online stores.
Furthermore, Wishly also offers a feature to mark received gifts as "gifted." This way, other guests can see which gifts have already been allocated, and duplicate gifts can be avoided.
Another significant advantage of Wishly is the fact that the platform can be used for free and without prior registration. This means that you can quickly and easily create your wishlist without having to go through complicated registration processes.
Additionally, Wishly's user interface is designed to be simple and intuitive. This makes it easier for users with less technical expertise to navigate the platform and ensures a pleasant user experience.
In summary, Wishly provides a great way to express gift wishes for various occasions. By collecting products from different online stores and creating a central list, it facilitates the gift selection for friends and family. The ability to mark received gifts as "gifted" ensures that no duplicate gifts are given. And the best part is: Wishly can be used for free and without prior registration.
Whether for weddings, birthdays, or other occasions, Wishly is the perfect solution to simplify the gift selection process and ensure that everyone finds the perfect gift. Try it now and create your own wishlist on Wishly!